B & W GROUP SERVING WESTCHESTER SINCE 1977
Since 1977, B & W Group Inc. has been Westchester County's Roofing Company of choice for providing our friends and neighbors a comprehensive residential and commercial roofing service. Our team of roofing experts can handle any roofing repair or roof installation project, whether it's the installation of a new roofing system or a simple one-off leak repair.
You won't find a more versatile or knowledgeable roofing contractor in Westchester County.
We guarantee 100% customer satisfaction on all our roofing projects.
Get your Free Quote Today
WESTCHESTER COUNTY RESIDENTIAL ROOFING
Whether you're in the market for a classic roof or a modern roofing system matching your homes contemporary design, our team is ready to partner with you to create the right roofing system for your home.
Residential Roofing.
WESTCHESTER COUNTY COMMERCIAL ROOFING
Past clients have included small and large medical centers, school complexes, hotels, condos, apartment buildings, and historic restorations. We service both flat, sloped and domed roofs,
commercial Roofing.
WESTCHESTER COUNTY ROOF REPAIR
Here in Westchester County, we know a thing or two about extreme weather and the team at B & W Group Inc. understands all there is to know about how to fix what mother nature broke. From simple one-off roof repair projects to rebuilds from down trees, we can help,
roof repair.
WESTCHESTER COUNTY SOLAR ROOFING
We love helping ecologically minded homeowners harvest the power of the sun as effectively as possible. Now with GAF's DecoTech® Solar Roofing System. B & W can help you say goodbye to those clunky solar panels with leak causing racks and brackets that are installed above your roof,
Solar Roofing.
WESTCHESTER COUNTY ROOF INSTALLATION, REPAIR, AND REPLACEMENT
Quality materials only go so far, though. In order to ensure a long lifespan for your roof, those materials need to be installed by qualified professionals. That's why you can feel good about hiring us for new roof installation and more. We insist on the highest level of training for our contractors, backed by many years of experience in this industry.
Every roof we install comes with an available warranty that can't be beaten – it is literally the best in the industry. A new roof is an investment make sure yours is protected!
Whether a fallen tree, the winter wind and snow, or summer heat and humid conditions damage your roof, we are your go to roofing repair team. Our Westchester roofing repair services are agile and have been designed to fix virtually any roofing damage or roofing problem you have – and fast!
Our team can repair or replace roofs, help with small gutter repairs and even replace or repair damaged flashing.
Living in Westchester means living in a harsh climate and in recent years we have all taken notice as the distinction between our four seasons has started to fade. You can see the effects of these extreme weather patterns on our homes and businesses.
Our winter's harsh freeze/thaw cycles and summer's heat and humidity beat up our roofs, which is your house's first line of defense. To keep the winter and summer out, your home needs to have a strong, modern roofing system.
Is your roof showing signs of age? Regular repairs and maintenance may not be enough to preserve the integrity of your roof. A new roof will not only make your home beautiful but will keep you and your loved ones safe and dry.
Whether your roof needs to be repaired or replaced, look to our roofing team for quality roofing repair solutions at a fair price. Our roofing services are designed to restore the overall structural integrity of your roof and the home underneath it.
LEARN MORE ABOUT SOLAR ROOFING FROM GAF
Say goodbye to those clunky solar panels. The GAF DecoTech® System is a low-profile solar system that's actually integrated into your roofing system.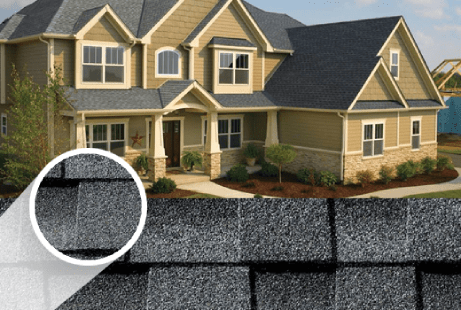 CONTACT US
CONTACT US TODAY FOR A FREE ESTIMATE