THE GAF DECOTECH® SYSTEM
The GAF DecoTech® System was designed by roofing experts, for roofing experts, to provide homeowners with a beautiful, high-performance solar roofing solution.
With the GAF DecoTech® System you don't have to settle for unsightly rack-mounted panels that compromise the integrity of your home's appearance.
Get your free no obligation solar roofing estimate today
Gaf Decotech® System -- High-performance Panels
GAF DecoTech® is integrated directly into the roof. GAF's all-new ultra low-profile solar panel was designed to beautifully complement the look of the homes they adorn while maintaining affordability and delivering optimal performance.
Unlike rack-mounted panels, the GAF DecoTech® System features perimeter protection with counter-flashing and step flashing that all but eliminates the risks of leaks and infiltration by debris and animals.
GAF Solar made it low profile and designed it to integrate right into your roofing system. Then, we surrounded it with an exceptional perimeter protection system to reduce the risk of leaks or animal infestation. After all, as North America's largest roofing manufacturer, we know a little something about keeping water out.
B & W Group is proud to be among a select few, GAF Solar Elite Contractors™ in the Northeast's, trained solar contractors. As well as certified GAF Master Elite® Roofing Contractors. We understand the installation of solar systems as well as how to protect the integrity of your roof. We're committed to performing a quality solar installation while providing you with exceptional service and communication throughout the entire process.
Designed by roofing experts to be installed by roofing experts. B & W is proud to offer our Westchester County Solar Roofing clients:
PROFESSIONAL INSTALLATION
To ensure your total satisfaction, Master Elite® Contractors have been provided with extensive educational materials developed by experts at GAF.
SUPERIOR PROTECTION
GAF Weather Stopper® 3-Part Roof Protection System gives you the best protection against a variety of all-too-common roofing problems.
WARRANTY OPTIONS
Because of their unique factory-certified status, the roofs Master Elite® Contractors install are eligible for specials.
FREQUENTLY ASKED QUESTIONS ABOUT DECOTECH™ SOLAR SYSTEMS...
Q: DOES THE DECOTECH™ SYSTEM PRODUCE AS MUCH ELECTRICITY AS A RACK-MOUNTED SYSTEM?
A: The DecoTech™ System uses best-in-class standard modules, which allows it to produce the equivalent amount of electricity when compared to typical rack-mounted systems.
Q: HOW DO I KNOW IF I'M A GOOD CANDIDATE FOR THE DECOTECH™ SYSTEM?
A: To see if there is a GAF Solar Elite Contractor™ in your area who can perform a site survey and walk you through the solar process. Go to: http://us.gaf.com/Solar
Q: HOW BIG WILL MY DECOTECH™ SYSTEM BE?
A: The size of the system depends on factors such as your energy consumption, amount of roof space, and the percentage of energy offset. The best way to determine the size of your system is to contact your local contractor to conduct a preliminary assessment.
Q: HOW DOES THE WARRANTY WORK?
A: The DecoTech™ System is covered by the DecoTech™ limited warranty, which provides coverage for manufacturing defects in the DecoTech™ System. You may also be eligible for the GAF Golden Pledge® Ltd. Warranty and GAF Golden Pledge®Ltd. Warranty addendum, which covers manufacturing defects and misapplication of both the DecoTech™ System and your roofing system.1 You should review both of these documents carefully to fully understand your warranty coverage and restrictions.
Q: AM I STILL ELIGIBLE FOR THE INCENTIVES AND TAX REBATES THAT ARE AVAILABLE TO RACK MOUNTED SYSTEMS?
A: Check with your tax advisor and local utility company to see what solar incentives are available in your area.3
Q: WHAT MAINTENANCE IS THERE WITH THE DECOTECH™ SYSTEM?
A: The DecoTech™ System normally requires no maintenance. In certain dry climates, DecoTech™panels may need to be hosed down occasionally for optimal performance.
Q: WHAT HAPPENS TO SOLAR PANELS WHEN IT'S CLOUDY OR RAINING?
A: Solar panels will still work even when the light is reflected or partially blocked by clouds. The rain actually helps to keep your panels operating efficiently by washing away any dust or dirt.
Q: WILL I SAVE MONEY ON MY ELECTRICITY BILL?
A: Actual electricity savings will depend on your energy usage, location, utility company, effects of tiered pricing, electricity pricing regulations, surcharges, availability of incentives in your area, and other variables.
1 See Golden Pledge® Limited Warranty and Golden Pledge® Limited Warranty Addendum For DecoTech™ System for complete coverage and restrictions.
2 Availability of financing subject to lender approval
3 Check with your tax advisor and local utility company about applicability and availability of credits and rebates. Credits and incentives including SRECS may not be available to certain financed solar systems.
LEARN MORE ABOUT SOLAR ROOFING FROM GAF
Say goodbye to those clunky solar panels. The GAF DecoTech® System is a low-profile solar system that's actually integrated into your roofing system.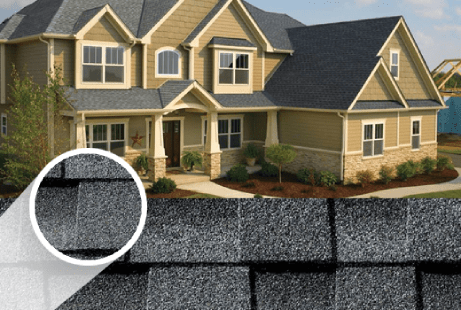 CONTACT US
CONTACT US TODAY FOR A FREE ESTIMATE